Handyman Services in the Tri State Area
Before you can even think about remodeling, you need your home to be in good condition. That's why Ivacco NY Services includes a handyman department as part of our house remodeling business. We do a wide range of tasks, from fixing leaks and caulking to painting to full replacement of various interior and exterior features. Our licensed contractors and technicians quickly and carefully diagnose any issues you're having and let you know what needs to be done to rectify them. We put your safety first and work as fast as possible with quality intact.
Any property repair services are only as good as the people and the tools behind them. That's why we use only the latest repair and maintenance equipment on every job, no matter how small. Part of our job is to ensure your house is up-to-date and looking its best, so we use only the best resources available in order to make that happen. We offer a variety of handyman services throughout the Tri State area, including all of the following:
Interior and Exterior Painting
Gutter Repair and Replacement
Caulking
Deck Restoration and Staining
Wood Fencing Replacement, Repair, and Refinishing
Pressure Washing
Masonry Repairs
Ceramic Tile Installation and Repair
Drywall Repairs and Installation
Insulation
Nail pops and Nail holes
Touch up Paint
Interior walls, ceiling and trim paint
Exterior trim paint
Exterior Power washing
Trim work such as brick mold, shoe mold, crown mold, chair rail, baseboard, window and door frames and replacement of interior and exterior rotted trim
Roof Leaks
Flashing Leaks
Bay Window Leaks
Upper Level Window Leaks
Gutter Leaks
Porcelain Wall/Floor Tiles
Exterior pavers
Vinyl sheet floor
Vinyl tile floor
Grout between wall/floor tiles
Mortar between brick and exterior stone
Caulking for all showers, sinks, windows, doors, trim on interior and exterior
Home Repairs in New York City
Home repair is a delicate job that is always best left in the hands of people who know it well. An inexperienced or unlicensed contractor can end up making problems worse instead of better and costing you more money. At our company, we only hire licensed experts with years of experience to their names. Whether you need quick drywall repair or full restorations, you can count on us to do it correctly the first time. Proper repair or installation now can save you bundles of both money and headaches in the future.
Types of Home Repair Services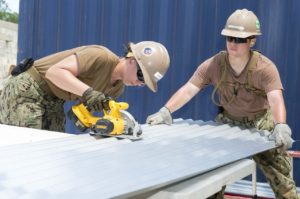 We pride ourselves on offering some of the most versatile home repair services in the area. Our crews are skilled enough to fix or improve almost anything in your house, outside and inside. Considering our services include roofs and gutters, floors and walls, and woodwork too, we can honestly say that we fix up your house from top to bottom. Each aspect is completely customized to your tastes, because we want you to enjoy every single part of your living space.
In addition to the major tasks like painting, renovations, and replacements, we also do little jobs. Some of these include doorknob repair, bookshelves and built-ins, and hanging pictures and curtains. Other companies won't perform this work, but we're happy to do it all for you at a price you can afford. Our services are so inclusive that we'll be the only ones you need to call whenever something goes amiss in your house.
Contact us to get your house back in working order. Our handyman service areas are New York City, Tri-State Area, South Hampton, East Hampton, and the surrounding areas.
REMODELING SERVICES REQUEST - Handyman Service Page